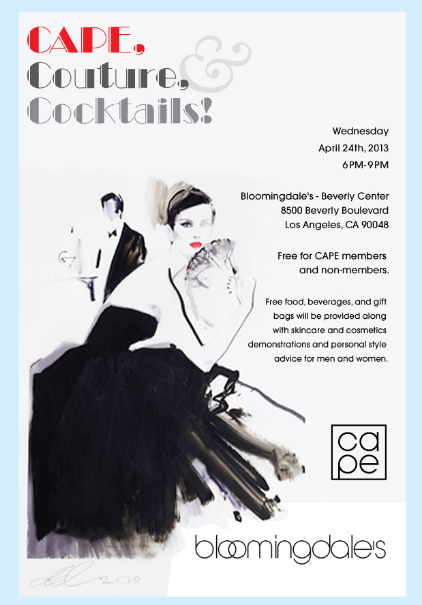 CAPE, Couture, and Cocktails!Join CAPE for guilt-free shopping at uber chic Bloomingdale's – Beverly Center.
Bloomingdale's is proud to support CAPE by sponsoring a storewide shopping event, and will donate 10% of all tracked sales to CAPE's I AM role model campaign, which aims to promote and highlight positive Asian American role models.
CAPE Mixers are the perfect place to meet with the largest and hottest group of Asian American entertainment professionals in Hollywood. Come shop with friends, make new connections, mingle with the industry's elite, and meet the CAPE Board and CAPE members.
IMPORTANT: When you arrive, please check in at the CAPE redemption desk located on the 1st floor of Bloomingdale's near the Coffee Bean kiosk.
When your shopping is complete, simply present your receipts* at the CAPE redemption desk to record your purchases for the donation, and pick up your gift bag.
*Duplicate receipts will be printed at the register at the time of purchase