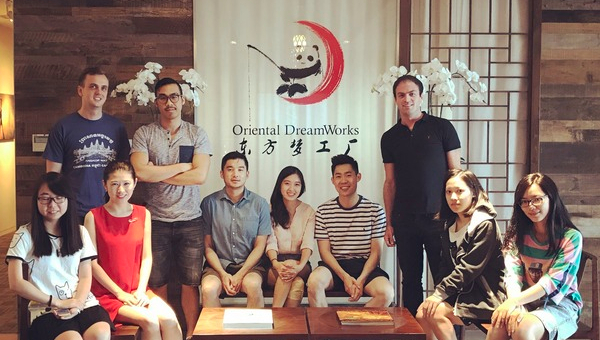 As a part of this year's CAPE New Writers Fellowship, Oriental DreamWorks selected 3 CAPE Fellows for their Artist-In-Residence Program in Shanghai, China. Johnny Ngo (Feature Film Fellow, 2017) talks about his experience.
Oriental DreamWork's Artist-In-Residence Program was simply priceless. From the moment wearrived to our last day at the office, we never stopped feeling welcomed. The ODW staff, at every level, was supportive and collaborative. There was no micromanaging. They trusted us to be artists, because they're artists themselves. They respected our own individual creative process. They even went out of their way to nurture it. They took us on tours around Shanghai to inspire us and made sure we tasted the culture through various cuisines that were carefully curated. There's no question I've expanded my mind… and gained some extra pounds (of culture) in the process.
I've never worked in animation. ODW's Artist-In-Residence Program challenged me to develop a new lens for storytelling. Justinian and Susan, the two creative executives I was paired with, constantly pushed me to be more visual and to think outside the box. "Why does this have to be animated?" "Can we convey that concept or emotion more visually?" "How do we keep elements simple yet satisfying?" One of my favorite moments came on the second day when we met with the visual team and our assigned visual artist. We were given a project to tackle by this point. As I described my vision – a single image that captures the spirit of the movie, the visual artists would say, "That's great Johnny, but how are we suppose to FEEL at this point in the story?" I loved that. Their instincts kept me grounded. I'm proud of the work I accomplished with ODW. I'm exceptionally proud of my visual artist for capturing my vision and elevating it to epic proportions. I can go on and on about my experience with ODW and their Artist-In-Residence Program, but I'll just summarize it in two words: rewarding and unforgettable.
Thanks again, ODW and CAPE for this amazing opportunity. My creative compass will never be the same!